Greetings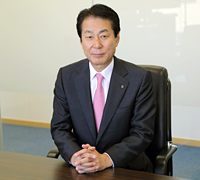 As a company that contributes to the social infrastructure, Nippon Signal conducts our business with a strong awareness of ESG (environment, society and governance) and the Sustainable Development Goals (SDGs) adopted at the UN Summit in 2015.
For example, in addition to expanding our environmentally-friendly products and reducing the environmental impact of our business operations, we remain deeply aware of our coexistence with society and are active in a number of local community service programs such as donation programs and providing support for the disabled. We believe that companies exist to make contribution to society and will continue to implement our CSR activities.
As we move forward, we ask for your continued support.
Hidehiko Tsukamoto President